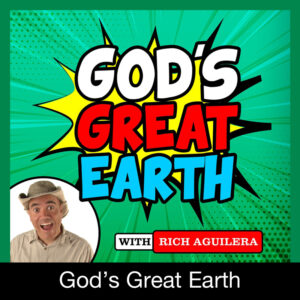 Show Times
Timezone
:
EST
[UTC-5]
Sat:
About the Show
God's Great Earth with Rich Aguilera is a wild and exciting Christian podcast designed for kids and families seeking an adventure-filled journey to know God better. Hosted by Rich Aguilera, a Christian kids TV personality and author, this program promises an action-packed ride filled with surprises and engaging content.
Each episode of God's Great Earth takes listeners on a whirlwind of excitement and discovery, exploring the wonders of God's creation in a way that captivates the imagination of both kids and parents. From thrilling nature encounters to inspiring stories of faith, Rich Aguilera brings a unique blend of creativity, enthusiasm, and Christ-centered teachings to every episode.
This dynamic variety program is designed to engage young listeners and their families, offering a fun and Christ-centered listening experience. Through a variety of segments, captivating storytelling, and uplifting music, God's Great Earth encourages kids and parents alike to deepen their relationship with God while having a blast along the way.
So, get comfy, sit back, and prepare to embark on an adventure ride with God's Great Earth. Whether you're seeking inspiration, entertainment, or a Christ-centered podcast the whole family can enjoy, this program is sure to provide an action-packed and memorable experience for everyone.