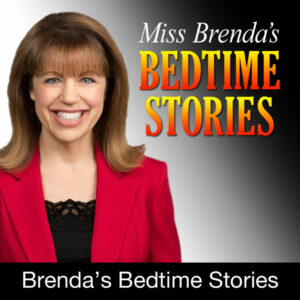 Show Times
Timezone
:
EDT
[UTC-4]
Sat:
About the Show
Miss Brenda's Bedtime Stories, hosted by Brenda Walsh, is a heartwarming radio program that brings beloved children's books to life through delightful readings. With each episode, Miss Brenda takes young listeners on a captivating journey, immersing them in stories that teach valuable life lessons.
The program features a collection of carefully selected children's books, including stories that span the globe and tales that feel close to home. Whether it's a thrilling adventure in a far-off land or a heartwarming tale set in familiar surroundings, Miss Brenda's Bedtime Stories captivate young imaginations and foster a love for reading.
These true stories, written by beloved and best-selling authors, including some by Miss Brenda herself, resonate with children and impart important moral values and character lessons. Each story offers an opportunity for young listeners to learn, reflect, and grow as they navigate their own lives.
Miss Brenda's Bedtime Stories is a program that not only entertains but also creates lasting memories for children and their families. It is a cherished resource for parents and grandparents, as they can share in the joy of these stories and the valuable lessons they teach. Whether enjoyed at bedtime or any time of the day, Miss Brenda's enchanting storytelling will leave a lasting impact on the hearts of young listeners.